What is Ankle Replacement Surgery?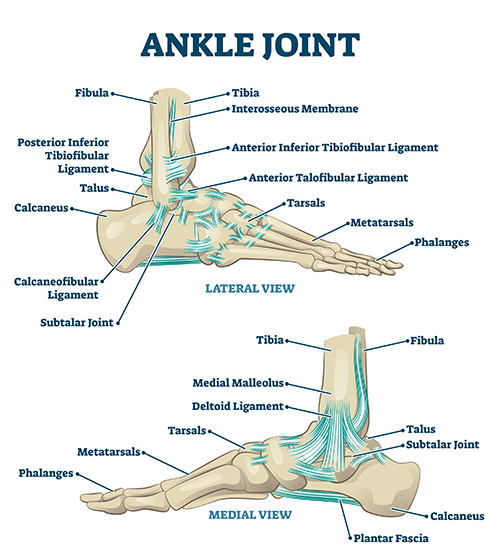 Total ankle replacement surgery is a procedure where the ankle joint is replaced with an artificial implant. Over time, arthritis can affect the ankle joint by wearing down the bone's cartilage resulting in direct bone-on-bone contact. This can cause pain, inflammation, swelling, and limited mobility. Once the damaged cartilage and bone are removed, the ankle joint is replaced with two artificial metal implants and a plastic insert placed between them.
If you are dealing with severe arthritis in your ankle due to osteoarthritis, Rheumatoid arthritis, or other causes, a total ankle replacement may be an excellent choice for you. Conversely from ankle fusions, total ankle replacements preserve the range of motion of the joint.
Dr. Vulcano is one of the leading Orthopedic surgeons in South Florida, Miami Beach area specializes in ankle arthroplasty. To schedule your consultation and determine if ankle replacement surgery is right for you, please call (305) 674-2090 or contact us online today!
Dr. Ettore Vulcano, MD discusses Ankle Replacement Surgery
Ankle Replacement Recovery Timeline and Process
Recovery from ankle replacement surgery is unique for every patient. Our goal is to get you back to a pain-free life and ultimately improve your mobility. However, as with any procedure, healing takes time, and it is crucial to give the body the appropriate time to heal, being mindful not to rush the process.
Here is a general guideline of what to expect after your ankle replacement surgery.
0-2 Weeks Post Surgery
Immediately following surgery, the foot is wrapped in a bandage and splint.
Elevate the leg, and take pain medication as needed.
You will need to use crutches, a walker, a wheelchair, or a roll-a-bout.
During the first two weeks, you will not change the dressing/splint and not get the leg wet.
2-4 Weeks Post Surgery
For your first post-surgery visit, we will take an x-ray, and remove the splint.
We will place you in a removable boot.
You will start walking in the boot and, if instructed, incorporate movement without the boot.
You can shower, provided the incision is clean and dry.
Start the light exercise in a swimming pool using a flipper to help the movement of the ankle.
At four weeks, you may use a stationary bike.
6-8 Weeks Post Surgery
At this point, you should plan to walk if there is no ankle pain.
You will start physical therapy, and by six to eight weeks, you should start walking out of the boot if comfortable.
Continue physical therapy and increase activity according to instructions from Dr. Vulcano.
Dr. Ettore Vulcano, MD: Risk factors for failure of ankle replacements.
General Questions About Ankle Replacement Recovery
When can I start exercising after ankle surgery?
Exercises and range of foot and ankle movement are encouraged around two to three weeks after surgery. We recommend removing the boot for twenty minutes three times a day to exercise.
How soon can I drive a vehicle again?
If the surgery is on your left ankle, you should be able to drive an automatic vehicle for two weeks. If the surgery is on the right ankle, you may drive between four to six weeks.
How long can I expect to be off my foot?
You may begin to walk in a boot at about two weeks post-surgery. Depending on your level of discomfort and instructions given by Dr. Vulcano, you may start walking without the boot at around six to eight weeks. Wearing orthotic arch supports and stiff-soled shoes for one to two months will be essential for your recovery.
Do I have to do physical therapy?
Physical therapy is a vital step in your recovery from ankle replacement surgery. To build up the strength in your ankle for optimal recovery, working with a specialized physical therapist is a must. You will begin therapy at four to six weeks and should plan to see a physical therapist for about one to two months. Dr. Vulcano and our Miami team will help you find a top therapist for your needs.
What types of activities can I return to post-surgery?
Regular exercise in a gym is always encouraged. All machines, including bicycles, stair climbers, and elliptical machines, are excellent to regain the ankle's strength and movement. We never recommend that you run, but you can still partake in activities such as golf, prolonged hiking or walking, doubles tennis, bicycling, and under certain circumstances, skiing.
How long can I expect to have swelling?
Expect to have moderate swelling of the ankle and leg for about six to nine months.
Is Ankle Replacement Surgery right for you?
If you have tried non-surgical procedures to alleviate ankle pain and discomfort but have yet to find relief, please call our Miami Beach location at (305) 674-2090 to schedule a consultation. Whether your goal is to walk without any pain or get back to an active lifestyle, Dr. Vulcano and our team will guide you every step of the way.
Request Your Appointment Today!
To request your appointment, please call (305) 674-2090 or contact us online today!
---
Our Location
Ettore Vulcano, MD (Mount Sinai Medical Center)
4302 Alton Road, Suite 220
Miami Beach, FL 33140
Phone: (305) 674-2090
Orthopedic surgeon serving patients in Miami Beach, Miami, and the surrounding South Florida communities.